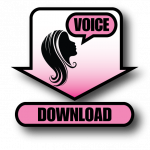 Get your copy now and support our work!
Get the learning materials:
Set up a spectrogram:
Download Gram, a FREE spectrogram program for Windows/PC. (alternate link)
http://www.genderlife.com/gram50.zip
Click HERE for the quick-start Spectrogram Setup Tutorial
NOTE: We did not create Gram. The tutorial above is all we can offer for tech support.
One-on-one voice consultation
Alternate spectrogram programs (Gram is still recommended):